Numerous studies have shown that the HVAC system is an amplifier, receptacle and transportation mode for mold, bacteria and other pathogens throughout a building.   NAC has committed to providing the industry's top products to help improve indoor air quality in facilities of all types.  
Needlepoint Bi-Polar Ionization
NAC would recommend Needlepoint Bi-Polar Ionization for owners who are interested in preventing the spread of VOC's, viruses and odors in their supply air stream(s).  The initial cost, install and maintenance requirements are attractive for this product considering the number of benefits that the product provides.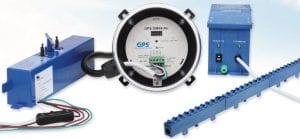 Independent study concluded 99.4% effective in killing COVID-19
Air filtration system captures large particles such as dust, dander and pollen by attaching ions around it, increasing mass and size, therefore, making the capture rate more effective within your HVAC system
Chemical, pet, cooking and other various odors are broken down into harmless compounds
Significantly reduces the amount of outdoor air intake required, resulting in up to 30% energy savings
GPS can be installed in any air system in any building
Products are readily available for installation in most units and can be ordered with quick ship options for large, custom air handling units
UVC Lights
UVC Emitters deliver the highest output in the industry—9 microwatts per linear inch of glass measured from a distance of 1 meter—independently tested at an air velocity of 400 feet per minute at 50º F.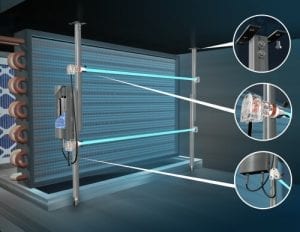 Rapid Install Kit (RIK)
RIK BENEFITS:
Proven UVC technology, backed by science: Ultraviolet germicidal irradiation is proven to be effective inactivating mold, bacteria and viruses
Energy Savings:  Lowers energy costs by restoring heat transfer and airflow uniformity across the coils
Improves Indoor Air Quality:  Steril-Aire destroys HVAC biofilm, preventing the growth and distribution of airborne pathogens in occupied spaces.
Safe: Produces no ozone or secondary contaminants
Improves Operational Efficiency:  Eliminates costly HVAC cleaning programs and extends equipment life.
Cost Effective:  ROI is typically less than 2 years.
Quality: UL, CUL, CE and other agency listings
For more information on these products and how to improve indoor air quality in your facility, contact NAC at 651-490-9868 or [email protected]